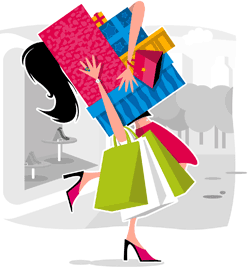 Yes that would be me and my favorite thing to do! SHOP SHOP SHOP! With this whole house buying thing it really needs to slow down a bit I even admit. I LOVE a Bargain! Here are a few sites that I visit daily, well besides Facebook and Twitter of course :)
This site offers sales for 2 days from brands like Vera Bradley, Betsy Johnson, Ray Ban, Kensie, Steve Madden, and so many more!!!! It comes in the cutest packaging as well!
So this is another shopping site that is similar to Rue La La but has quite a bit more stores daily. They have a Women's, Men's, Home and Travel section. Also, if you don't get your order on time they will give you a 10.00 credit. One of my bridesmaids ordered her dress for my wedding on here for 60.00 and it is an awesome dress she can totally wear again!
I love this website! It is the cream of the crop of wedding blogs. It has so many ideas and inspirations for planning your dream wedding
This blog has the greatest recipes and wonderful party ideas! Check it out!
In my next life I am going to be a party planner. I love throwing wedding showers and baby showers. The baby shower I threw earlier this year had a lot of the ideas come from this blog!
GO BIG BLUE! Make sure to watch the WILDCATS Saturday in the NCAA FINAL FOUR!

XOXO